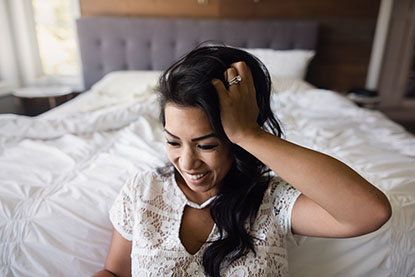 Hey, I'm Thao... a corporate, career gal from small town Pennsylvania, metro-Detroit Michigan, now settled in west Michigan with a passion for all things documentation. I mom hard to three kids (2 boys and 1 girl) in stilettos, prefer being a homebody most days, and am an online shopping advocate (especially those groceries!). Above all, I always try keep it real in all the different facets/titles of my life.

I'm a lifestyle photographer and blessed to serve people through artfully documenting their stories.

Since 2010, I've been fortunate to photograph dozens of families who are madly in love with life, writing their chapters in an authentic way through my detail-obsessed and unobtrusive shooting methods that later translate into timeless heirlooms with all the people they love.

Nothing makes me happier than seeing an old photo conjure up emotions, nostalgia, and gratitude for that moment. This is what I want to share with you when you invite me to serve you. So who are my clients?

My clients value the non-renewable resource: time. They want to remember real moments and want to have fun doing that. They value high quality and personalization. They don't want stuffy 'say cheese' moments, but appreciate my vision for remembering the beauty in their everyday life. They aren't afraid to goof off and have me catch them doing so with each other. They are the unapologetic heroes of their story.

And, my favorite -- you, mamas. You are never IN the frame?! Why? Motherhood has been one of the most beautiful things that has happened to me and getting into the frame is so important to me. When your kids look back in albums, they won't pick out what you think are your imperfections. They will cherish those images because you were in it with them. I have a special place in my heart for capturing mamas with their littles before their littles grow up and ask them why their Daddies were the only ones in the pictures. You don't want Daddies to take ALL the credit do you? Please invite me to share your beauty, if not for the world or you, for your babies.

"OK, but what's up with the 'Don' in DonThao?" Don is short for Donny, my husband, who started on this photography business journey with me. This mash-up name came from our signature cocktail at our wedding reception and it stuck while our friends were asking us for photo sessions (what feels like) forever ago. He holds down the 3-kid fort now when I'm off serving you!
Tell me your needs!